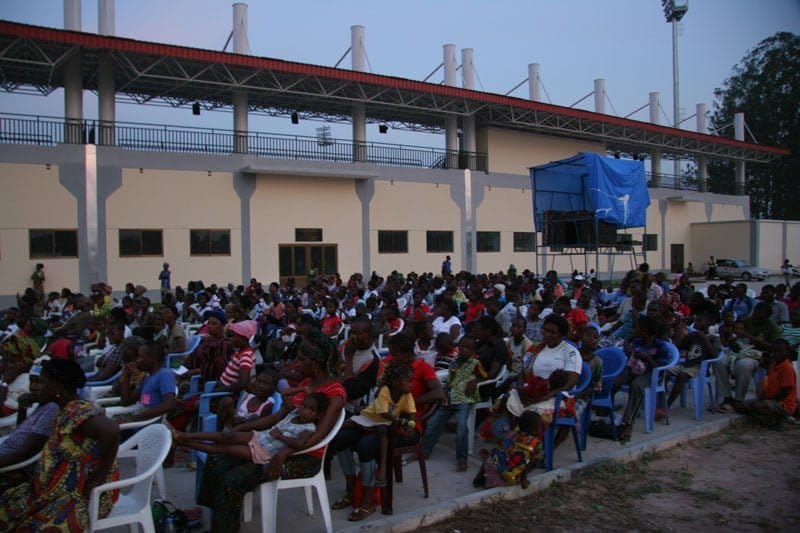 Dear RFM Friends,
We are just home from The Republic of Congo not to be confused with DRC or ex Zaire.   We called Kinkala the 'one lost sheep Crusade'.
Luke 15:4 What man of you, having an hundred sheep, if he lose one of them, doth not leave the ninety and nine in the wilderness, and go after that which is lost, until he find it?
We were glad for the opportunity to preach the good news in this very needy area. By the first evening, the rain had stopped and a small crowd began to arrive as the heat of the day subsided. I preached the Gospel clearly through two interpreters into French and Lari the local dialect. The response was overwhelming; the truth had been understood and almost every person responded to the call for salvation.
Although there was a good response among those that were present, I was burdened to reach those who were not there. So, the next day, I went to the open air market to preach the Gospel and invite people to the meeting. What a mixed response. Some listened intently. Some mocked and jeered. Yet one thing I know – the word never returns void. That night, I recognised some of the faces that had been at the market. Deep conviction gripped many and yet again we had a wonderful harvest.
Every night we prayed for the sick and suffering. A testimony that comes to mind is how the Lord healed a lady of asthma – she came back after two days and needed no medication! Jesus had set her free.
On Saturday, we preached on the Baptism in the Holy Spirit. At the same time, Shireen was describing to the new believers how she had been filled with the Holy Spirit. A certain Mr Deudone spontaneously came forward under the conviction of the Holy Spirit. He was crying and saying, "I have such a problem. I can't stop drinking. My wife and children are suffering. I need deliverance; I need salvation". He fell to his knees and cried out to the Lord. What a joy it was to pray with him. The next day, he was back – this time sober and attentive to the word of God! We serve a miracle-working God. Another touching story pertaining to the work of the Holy Spirit bringing conviction upon a person concerned an 11-year-old boy, who made his way to one of the team members asking if he could be saved. He explained that he was a thief and had stolen money from his mother. He told his mother how sorry he was, and cried asking God to forgive Him.
John 16:8 And when He has come, He will convict the world of sin, and of righteousness, and of judgment.
When we arrived in Congo, we were met by one of the ex-Generals now retired and living in Paris. He was visiting Congo and was greatly concerned at the spiritual state of the country. His comments were: "Congo needs a mighty move of God – Congo needs a revival". He said that it was in 1963, when the Nation turned away from God and turned to Communism, that godlessness began to arise. Now in 2013, 50 years later and Congo's Jubilee year, our hope is that, as a clear 'trumpet call' or a clear proclamation of the Gospel goes forth, many would once again turn back to God.