Dear Friends,
Sharing the Good News of Jesus Christ, remains our main concern and calling.  We have been going out proclaiming the Gospel in open-air meetings, at the marketplaces, on street corners, from shop to shop, and one on one.   There are no huge crowds, yet we cannot forget, or neglect the bible pattern of making disciples, of labouring for fruit that endures. We should never tire of encouraging people to walk in a way which brings glory to the Father and which is pleasing to Him.   For how long should we do this?  I think of Psalm 71:18  So even to old age and gray hairs, O God, do not forsake me, until I proclaim your might to another generation, your power to all those to come.
Bible Study PERSUADING and CONVINCING
Colossians 1:28 Whom we preach, warning every man, and teaching every man in all wisdom; that we may present every man perfect in Christ Jesus.
What is meant by the phrase, warning all people.  While the immediate meaning in English that comes to mind may be to warn of a threatening danger, or the coming judgement, or warning of hell, this is not actually the intended meaning the apostle Paul wants to communicate here.  Rather the word warning here is more accurately rendered as 'call near' or admonishing every man.  It includes to bring to attention things that the hearers don't usually think about. It also includes to persuade and to convince them.
The Persuading Part   Our persuading should always be done in kindness, showing how much the Lord has done for our hearers and the depth of His love towards them. We must preach there is only one true and living God, and only one name by which we can be saved Jesus Christ.  We persuade by preaching the whole Gospel of Christ proclaiming every branch of it.  Teaching them to believe in Christ Jesus for salvation, to take hold of His righteousness for justification, to place their faith in the blood of Christ and in the sacrifice of Christ which alone can pardon and remove our sin.  We must include and encourage our hearers to observe all things commanded by Christ, and to live soberly, righteously and godly.
The Convincing Part. People need to be convinced of their sinfulness and the power and danger of sin.  Convinced of the terrible state of being lost without the Lord, the terrible state of dying without Christ.   To convince them, and show them, that all this world has to offer is temporal and fading away and will decay and perish.  While the Kingdom of God is an Eternal Kingdom.  We preach God's Word clearly and entirely.  The Lord then by His Spirit will convince and awaken their hearts.
The Lord is alone the Saviour.  The role of the Holy Spirit.  We must remember we are co labourers together with Him.  2Cor 6:1 We then, as workers together with him, beseech you also that ye receive not the grace of God in vain.  We proclaim the Gospel, while the Lord alone, by His Spirit is the one who truly convinces of the need for salvation.  Without His convicting power, people simply aren't really convinced.   John 16:8 And when he is come, he will reprove the world of sin, and of righteousness, and of judgment.  It is the Spirit of God who pricks the hearts when they hear the gospel.  It is He who causes people to say what then must I do to be saved?
When we think that God is faithful to be present, convincing, and convicting in every outreach conducted with an eye to the glory of God this inspires us to do our part.  Our duty is to be faithful proclaiming the Gospel, faithful to go out into the highways and byways compelling people to come to Christ.
Bible and Book Projects.    
We continue to widely distribute Bibles.  The Word of God is a lamp unto my feet, and a light unto my path (Psalm 119:105) Bread that sustains and nourishes our souls.  I am the bread of life: he that cometh to me shall never hunger; and he that believeth on me shall never thirst. (John 6:35.)  As the writer of old says it's a medicine for every one of life's ailments a balm for every pain and yet much more, the way of salvation is clearly revealed in God's Word.  Surely nothing else could be more valuable and of great help, than to get a Bible into the hands of as many people as possible.     We have found a reasonable supplier for Bibles here in Kenya.  If you would like to help with Bibles kindly get in contact with us.  BOOKS. While I was at our home church, Bethel Baptist in Bath I picked up a little book by Dr Peter Masters 7 Certain Signs of True Conversion.  Conviction of sin, understanding Scripture, the family bond, discovery of prayer, a new heart, an initial measure of assurance, attacks of satan.  I immediately thought how this booklet would help so many who claim to be saved but sadly show forth no fruit, and no signs that there has been a true work of God in their lives.  Metropolitan Tabernacle in London kindly allowed us to print this book in Kenya and we have distributed hundreds along with other titles by the same author.  There is much to still do but we have made a start.
London Reformed Baptist Seminary.  I'm in my 2nd year of the Seminary.  The course is 4 years in total.  How this course continues to inspire me to preach Christ and continue the work of evangelism to win souls, and to contend for the faith.  It's been wonderful to study the bible doctrines and to see how Scripture all jigsaws and fits together.   The course re-emphasises the old paths of reformed biblical Truth combined with enthusiastic evangelism.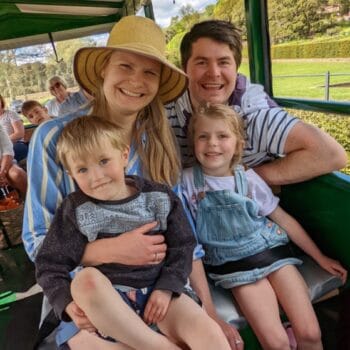 Tim Christian Eliza and Josiah are arriving in Kenya
24th August 2022.
After almost a 3 year delay we are thrilled that our son and family are joining us in Kenya.  Tim will support and help us in sharing the good news of the Gospel amongst the communities.  One new project Tim will be launching is a Bible for each student in the surrounding schools.   There are currently 4,560 primary school students in the immediate surrounding area.   Tim also plans to start a feeding programme for struggling schools. Initially, this would be providing a porridge called 'Uji' to students.  This will help students concentrate better and thus enhance their learning. Tim also hopes to explore how he can use his 11 years of ICT/Computing teaching experience and supply computers to local schools.  We so look forward to their arrival.
We do send our warmest greetings and love to you.  Please do pray for us as the Lord prompts you.
Wish our very best wishes,
Roger and Shireen
Rural Outreaches 
Around Laikipia
Bibles  distributed to over 1000 homes.
School Lunch

It was special to be able to provide a hot Christmas meal of goat, rice and stew to all the students and staff. They appreciated this so much!

Sharing the Love of Christ

Food hampers including a mattress and two warm blankets to families in greater need

1 John 3:16 By this we have known the love of God, because He laid down His life for us. And we ought to lay down our lives for the brothers.

Bible Distribution in Schools

In December 95 'New Testament and Psalms' were given to students.  These were kindly provided by the Bath – Good News For All branch.

Practical help with reading glasses

It was such a joy to see some of the older folks faces light up when they received a pair of reading glasses, so they were able to read their new bibles.

Bible & food parcels to the families in the community

Proclaiming the Gospel message

It's our belief that the one great need is for clear Gospel preaching.  This alone will take root in lives and produce fruit that endures to eternity.
  A Gospel message
So Great Salvation
The Bible speaks about so great salvation.
Hebrews 2:3 KJV
But why is salvation great? To begin to answer this question let me ask a question.  What makes a book great?  Or what makes a painting great, what gives it  great value   Surely it is, the author or the artist who gives depth great content and great beauty.    Salvation was authored by God himself without anyone suggesting it to Him, it was and is His idea. He planned it in such depth and beauty, before even the foundation of the world.   He alone is the author  and artist of our eternal salvation.  Salvation is so great because the author and artist of it is none other than God Himself.
There are many stories of famous art works being discovered and bought for a fraction of their real worth.   One of my favourites is at an auction a small slightly damaged oil painting which expected to fetch around $500 to $800 at the auction.  Experts recognised it and it turned out to be a long lost painting by Rembrandt the famous Dutch artist.   It sold for over a million dollars.   What made the difference?   The bidding opened at only $250, the auctioneer commented that the painting was online for the whole world to see, yet in all the world only 3 people recognised its great value and beauty.   Most dismissed it as a fake  and missed the great prize.   Once it was realised who the artist was the value shot up enormously.   
The Gospel message is in every Bible yet so many don't see it or realise its great value. So many just dismiss it.   Yet what can compare to Gods master plan of redemption to rescue lost people out of the clutches of darkness and translate them into His glorious light.   To make them children of the most High God.
The first reason Salvation is Great is because God is the Author and artist.   
Read more
Hebrews 2:3 How shall we escape, if we neglect so great salvation; which at the first began to be spoken by the Lord, and was confirmed unto us by them that heard him.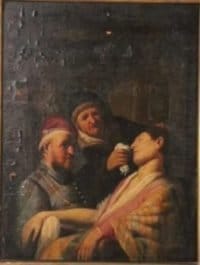 A long lost painting by Rembrandt the famous Dutch artist.
Bible Tracts

"When preaching and private talk are not available, you need to have a tract ready….Get good striking tracts, or none at all. But a touching gospel tract may be the seed of eternal life. Therefore, do not go out without your tracts." CH Spurgeon