Bible and book distribution
Bibles distributed to over 1000 homes
C.S. Spurgeon "Within the Scripture there is a balm for every wound, a salve for every sore."
School Lunch
It was special to be able to provide a hot Christmas meal of goat, rice and stew to all the students and staff. They appreciated this so much!
Sharing the Love of Christ
Food hampers including a mattress and two warm blankets to families in greater need
1 John 3:16 By this we have known the love of God, because He laid down His life for us. And we ought to lay down our lives for the brothers.
Bible Distribution in Schools
In December 95 'New Testament and Psalms' were given to students.  These were kindly provided by the Bath – Good News For All branch.
Practical help with reading glasses
It was such a joy to see some of the older folks faces light up when they received a pair of reading glasses, so they were able to read their new bibles.
Bible & food parcels to the families in the community
Proclaiming the Gospel message
It's our belief that the one great need is for clear Gospel preaching.  This alone will take root in lives and produce fruit that endures to eternity.
  A Gospel message
So Great Salvation
The Bible speaks about so great salvation.
Hebrews 2:3 KJV
But why is salvation great? To begin to answer this question let me ask a question.  What makes a book great?  Or what makes a painting great, what gives it  great value   Surely it is, the author or the artist who gives depth great content and great beauty.    Salvation was authored by God himself without anyone suggesting it to Him, it was and is His idea. He planned it in such depth and beauty, before even the foundation of the world.   He alone is the author  and artist of our eternal salvation.  Salvation is so great because the author and artist of it is none other than God Himself.
There are many stories of famous art works being discovered and bought for a fraction of their real worth.   One of my favourites is at an auction a small slightly damaged oil painting which expected to fetch around $500 to $800 at the auction.  Experts recognised it and it turned out to be a long lost painting by Rembrandt the famous Dutch artist.   It sold for over a million dollars.   What made the difference?   The bidding opened at only $250, the auctioneer commented that the painting was online for the whole world to see, yet in all the world only 3 people recognised its great value and beauty.   Most dismissed it as a fake  and missed the great prize.   Once it was realised who the artist was the value shot up enormously.   
The Gospel message is in every Bible yet so many don't see it or realise its great value. So many just dismiss it.   Yet what can compare to Gods master plan of redemption to rescue lost people out of the clutches of darkness and translate them into His glorious light.   To make them children of the most High God.
The first reason Salvation is Great is because God is the Author and artist.   
Read more
Hebrews 2:3 How shall we escape, if we neglect so great salvation; which at the first began to be spoken by the Lord, and was confirmed unto us by them that heard him.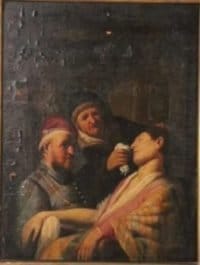 A long lost painting by Rembrandt the famous Dutch artist.
  Bible Tracts
You are trying to display a gallery, but no input was provided.